Massage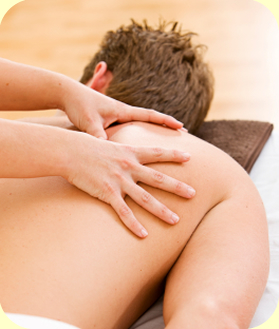 "While massage is not meant to cure major medical conditions, it may help ease symptoms, so you can feel better faster."
Massage therapy may offer even more than you realize. Whether you are trying to relax from a hard day's work or recover from an illness or injury, massage may provide relief.
While massage is not meant to cure major medical conditions, it may help ease symptoms, so you can feel better faster.
Natural Care Chiropractic's Available Massage Therapy Techniques:
European (Swedish) Massage Therapy
European Massage works primarily on the musculoskeletal and nervous systems, the body's connective tissue and the blood and lymphatic circulation.
1 Hour $80  |  45 min $65  |  30 min $45 |  90 min $120
Six 1 hour massages total cost $420
Six 90 min. massage total cost $660
AMMA Therapy
Our therapists uses energy channels and points along those channels to manipulate energy in order to nourish and balance your body.
1 Hour $85  |  45 min $70  |  30 min $50 |  90 min $125
Aromatherapy
The introduction of essential oil during a massage can impact the session through physical, emotional and spiritual levels. We invite you to assist in choosing the perfect oil or blend for your session.
1 Hour $85  |  45 min $70  |  30 min $50 |  90 min $125
Hot Stone Therapy
In this deeply relaxing treatment the therapist uses heated stones while massaging the body, as well as placing stones throughout the body to allow for the transfer of heat. The use of heat is deeply soothing and penetrating allowing for complete relaxation and therapeutic healing.
1 Hour $95  |  90 min $135
Pre-natal Massage Therapy
Pre-natal massage contributes to a comfortable and low-stress pregnancy. Regular massage therapy sessions during pregnancy can prevent or minimize many common discomforts experienced while pregnant.
1 Hour $85  |  45 min $70  |  30 min $50 |  90 min $125
Reflexology
This specific pressure technique works on precise reflex points on the feet and sometimes hands. It is based on the premise that reflex areas on the feet correspond with all body parts.
1 Hour $85  |  45 min $70  |  30 min $50 |  90 min $125