Holistic News & Events
JANUARY 31, 2012
Lose Weight With Acupuncture!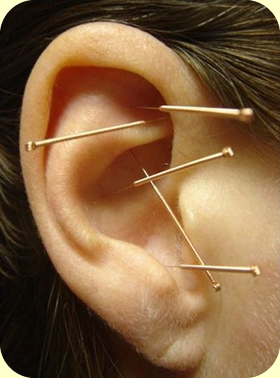 "Acupuncture differs in that it considers the whole picture."
An estimated two-thirds of Americans are currently overweight, and one third of those are considered "obese". What are the solutions?
From diets to drugs to medical devices, weight-loss solutions seem to consistently leave something to be desired.
Each weight-loss method produces an unpredictable outcome because people gain weight, and struggles to lose it, for different reasons.
Acupuncture, by nature, is multi-pronged in its approach, making it a dynamic therapy for complex conditions that are difficult to isolate.
Acupuncture differs in that it considers the whole picture. It simultaneously addresses physiological and emotional imbalances.
Ear points are the points traditionally chosen for weight-loss acupuncture; usually some combination of Shen Men, Sympathetic, Endocrine, Hunger, and Stomach.
The ear in acupuncture is a microcosm of the whole body; therefore the ear points can be effective at treating issues that involve more than one system in the body.
Shen Men and Sympathetic: Reduce anxiety and calm the nervous system
Endocrine: Addresses potential hormone imbalances, affects metabolism
Hunger: Curbs food cravings
Stomach: Targets one of the primary organs involved in digestion

More than just ear acupuncture is encompassed in the treatments. Dietary habits will be discussed, and dietary changes will be discussed and suggested. The possible addition of supplements and/or herbal formulas, along with the option of a detox is also available.

Packages and group discounts are available:
Package of 5 treatments (non-group): $300 (save $100 dollars!)
Package of 10 treatments (non-group): $600 (save $200 dollars!)
Group of 5 or more: $50 per person (save $30 dollars!)